Paint colours are significant in enhancing the appearance of your home. It substantially impacts your space as it sets the mood and ambience. That is why choosing the right house paint colour is essential. To help you with your home's paint colours, we have listed factors, tips and popular colour choices for making the right decision.
Importance of Choosing the Right Paint Color
Choosing the right colour for the paint in your house has something to do with the design of your interiors. Colours elevate your home's look and improve your space's size. These things are some of the reasons why colours are essential. That said, here are some things in which picking the right colour is a significant factor.
Aesthetics
When you want to set the tone of your room, it is just right to choose a paint colour that gives another level of aesthetic. Choose a paint colour that perfectly complements the interiors and decors to create an organized and visually pleasing space.
Mood and Emotions
Colours have a profound impact on our moods and emotions. The right paint colour can promote relaxation, productivity, or energy, depending on the room's purpose and your personal preferences.
Room Size
Your choice of colour impacts the size of the room that you have. Paint colours are beneficial in adding illusion to your home's space. So if a spacious area is what you are aiming for, try the lighter colours. If you want a cozier one, opt for darker colours.
Resale Value
Paint colour plays a vital role in adding value to your house. Choose a paint colour that is appealing and attractive to the eye to attract many potential buyers during the resale.
Factors to Consider When Choosing the Color
It can be time-consuming when you decide on the paint colour for your house. Aside from the fact that you need to fit the colour to your interiors, you also need to check if it complements your home's overall look. That said, here are the factors that you should consider:
Lighting
One of the important factors when choosing a paint colour is the house lighting. If you use natural light, go for lighter shades like pastels or bright ones.
Furnishings and Decor
Take into account the furnishings, decor, and style of the room when selecting a paint colour. The paint colour should complement and enhance the existing elements in the room.
Room Size and Ceiling Height
Of course, the size of your room and the ceiling height matter when you choose a paint colour. Go for lighter colours if you aim for your space to look bigger and darker ones if you want to show intimacy.
Personal Style
Nothing beats a paint colour that reflects your personal style. In that regard, choose the ones you are most comfortable with so you can feel homey and personal.
Tips for Choosing the Right Paint Color
Choosing a paint colour is more challenging than you think. You need to understand essential things for you to decide on your own. With that, we have listed some tips that you can use for choosing one.
Use colour swatches
Narrow down your choices with colour swatches. Compare the paint colours you want with your house interior to decide if it is better or not.
Consider the undertones
Consider whether the undertones of a colour match the other elements in the room, such as the flooring, furnishings, and decor.
Paint samples
Once you've narrowed down your choices, purchase paint samples and paint a small section of the wall to see how the colour looks in the room.
Start with a neutral base
If you need help deciding what colour to choose, start with a neutral base and add pops of colour through furnishings and decor.
Consider the adjacent rooms
Make sure that the colours of each room complement each other and create a cohesive look. Choose a paint colour that brings an adjacent colour to your rooms.
Don't forget the ceiling
Consider painting the ceiling a different colour than the walls to add interest and dimension to the space. Never leave the ceiling empty; it is also part of the overall aesthetics.
Popular Color Choices for Your Home
There is no doubt that paint colour choices come from your personal decision. That said, here are some of the popular colour choices that you might want to use in your house:
White
Gray
Blue
Green
Beige
Yellow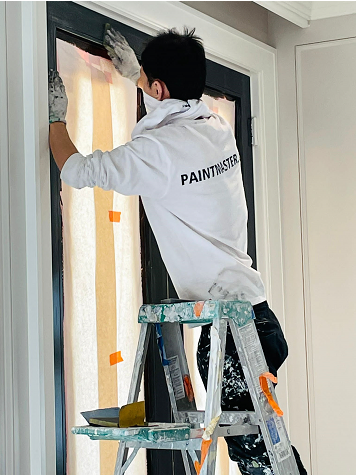 Let us Help You With Your Home's Paint Choice
Indeed, your home's paint colour signifies what type of person you are. When it comes to choosing, it's essential to be careful as it can impact the overall look of your home. Therefore, take your time to ensure you make the right decision. So if you are in doubt or don't know what colour best suits your home, PAINTMASTER.ca will guide you along the way. Feel free to visit our website https://paintmaster.ca/ to learn more about our unique services!
| 2023 HomeStars Award Winners | Official Drywall Contractors For The 2023 Princess Margaret Dream Muskoka Cottage Lottery | Painting Specialists At Work Since 1966 |