Many people use wood stains to enhance the beauty of wood. More than that, it can also protect the wood from any further damage when it is exposed to moisture and sunlight when doing home improvement projects in furniture and woodwork. Furthermore, knowing what this wood restoration technique is all about gives you a comprehensive understanding of its uses, types, methods and more.
What is Wood Staining?
It is a process of adding colour to wood to enhance its natural grain pattern. More than that, it also protects from possible damage caused by moisture or sunlight. In order to achieve this, a specific liquid is applied to the wood to create a colour change. This technique is commonly used in the following ways:
Woodworking
Furniture making
Home improvement projects
Furthermore, using wood stains in your project makes the surface of the wood stand out. So apart from giving the wood a unique look, it also helps to ensure it lasts longer.
Types of Wood Stain
There are several different types of wood stains available in the market. You need to know its unique features and benefits to choose what's best for your project. Here are some of the common types used in wood staining.
These stains are made with mineral spirits or other solvents mixed with natural or synthetic oils. Oil-based stains provide a deep, rich colour and can be used on any wood. They also penetrate deeply into the wood, protecting against moisture and UV rays.
When it comes to less hazardous stains, the water-based one is an ideal choice. It is faster to dry and easier to clean. Also, it has a number of colours so you can choose which best suit your wood project.
Gel stains are thick and provide a more even colour than other types of colours. They are ideal for vertical surfaces, as they don't drip or run like liquid stains. Gel stains are also easy to apply and provide a uniform finish for wood staining application.
Transparent coatings are what varnishes are known for. It is basically applied over wood to give a shielding effect for the wood. These stains are available in many degrees, ranging from matte to glossy.
One of the most popular alternatives for wood stain is paint. It is opaque and effectively masks the natural colour of the wood. Paints come in an array of colours and finishes for your liking.
How to Choose the Right Wood Stain
It is crucial when choosing a wood staining material for your project. Since there are several stains in the world, it will be harder for you to choose the best. That is why we have provided some factors that you should look into.
The type of wood you are staining will affect how the stain appears. So it is better if you identify what type of wood you want to stain. Of course, you need to choose a wood that can absorb stains easily for a more obvious result.
Wood stains come in various colours, from natural and transparent to opaque and bold. Choose a colour that complements your wood's existing colour or complements your project's overall colour scheme.
The opacity of a stain refers to how much it covers the natural colour and grain of the wood. Transparent wood staining types allow the natural wood colour and grain to show through. In contrast, opaque stains cover the natural colour and grain of the wood.
Different types of stains require different application methods. That said, you must consider the tools and techniques you are most comfortable using to make it easier for you during the application process.
Tips and Tricks for Effective Wood Staining
Here are some tips and tricks to help you achieve a beautiful and professional-looking wood stain:
Properly preparing the wood surface is crucial for a successful stain job. Sand the wood surface thoroughly and remove any dust or debris before applying the stain. Use a wood conditioner to help the wood absorb the stain evenly if necessary.
To effectively stain the wood, it is best to apply it with a clean brush. Do your best to evenly apply it on the wood surface in thin coats for better results.
After applying the stain, use a clean cloth to remove any excess stain the wood has not absorbed. This will prevent blotching and streaking and ensure an even finish of wood staining.
Have the visualization of how the stain looks in the wood through testing. Apply the stain to a small area of the wood and decide for yourself whether it is a good choice or not.
It is worth mentioning that stains are harmful when inhaled or ingested. So be sure to use protective gear during the application process. Wear a mask, gloves, and goggles to be sure.
Follow manufacturer instructions
To achieve effective wood staining, always read the instructions before using the stain. In this way, you know how it should be applied in a specific area and achieve the desired finish.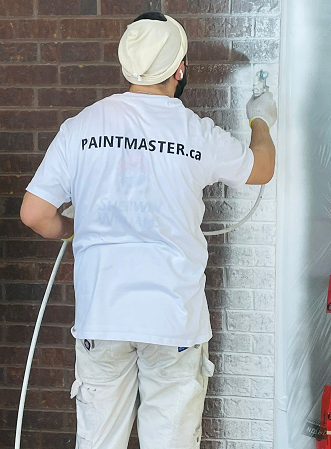 Contact a Paint Specialist at Work!
Refinish your home with the wood staining technique. Let PAINTMASTER.ca help you improve the look of your wood project. If you are looking for creative and well-experienced professionals to guide you through the process of staining wood, we are the people to call. Interested? Feel free to visit our website https://paintmaster.ca/ to learn more about our unique services!
| 2023 HomeStars Award Winners | Official Drywall Contractors For The 2023 Princess Margaret Dream Muskoka Cottage Lottery | Painting Specialists At Work Since 1966 |