Drywall has been a popular option for many construction works. It is used for home interiors and construction design, ideal for more prolonged use due to its durability. It can last longer than you expected, for decades, to be exact. Drywall is an excellent option for both commercial and residential construction projects. However, what makes this material attractive besides its durability and versatility?
What is a Drywall?
A drywall is a type of board used to create a ceiling or walls. It is an ideal construction material that can be useful for creating design features like eaves and arches. Due to its durable quality, many people choose to use this soft material in building any construction or partition systems. Drywall is made of:
Due to its popularity in the market, a lot of people prefer this material for their home interiors.
Benefits of Using Drywall
Drywall is one of the most preferred choices for wall covering. It is an ideal construction material for every home due to its many benefits. For you to understand what you can gain from using this material, here are the advantages of drywall as a good choice for home construction.
Affordability
A cost-effective option, this is one of the reasons why drywall is a famous option. It is an affordable construction material with the same effect as other wall covering such as wood, plaster or brick.
Versatile
Drywall can be used in various ways and purposes. It is the most preferred material for making a home's ceiling, walls and partition systems. Also, it can be used to create furnishings like shelves and cabinets.
Ease of installation
There is no better option for easy installation than drywall. It is a lightweight material which makes it easier to install. Plus, you don't need to worry during the installation process; it just needs minimal preparation.
Durable
As mentioned before, drywall is the top construction option material that has proven durable. With proper maintenance, this material can last for years and decades. So if durability is what you want, go for drywall.
Fire resistant
Drywall is a non-flammable material. It can withstand fire and can still be used in any way. Due to its being fire resistant, it is a safer option among other wall covering materials that are available in the market today due to its being fire resistant.
Sound insulation
If you are looking for a material that can prevent sound waves from entering your room, drywall is a wise option. It has a good insulation quality that can prevent any sound from travelling through.
Comparison of Drywall to Other Wall Covering Material
There is no doubt drywall is a popular material that is used for covering walls. It gives a number of benefits and has been a reliable option in many construction projects and works. But aside from that, other wall coverings are available in the market, such as plaster, wood and brick, are available in the market. Get to know these materials through a brief comparison to drywall.
Plaster
Plaster is a building material used for years, decades and centuries worldwide. It has been a reliable wall and ceiling covering material that is a mix of lime, water and sand. It is applied to a wall and left dry on the surface. But of course, noticeable differences can be seen when compared to the other. Unlike drywall, plaster takes time to install and has an expensive cost. As for the drywall, it is affordable and easier to install.
Wood
When you say warmth and character, wood is an excellent wall-covering option. It gives another level of comfort more than any covering material. But just like plaster, it is a costly material and can be challenging to install since there are times when wood needs to be cut to fit the desired space and size. On the other hand, drywall is a more versatile material as a wall cover since it can be used in many ways. It is also cost-effective compared to wood.
Brick
Another good wall covering is brick. It is an ideal choice when it comes to interior and exterior walls. It is proven and tested to be durable and fire-resistant, in which many are very interested in using this material in their homes. But since it is made out of clay and other construction materials, it can be too expensive for others and come as a heavy wall covering that needs additional structural support. Compared to this material, drywall is much lighter and affordable in general. It has no extra cost as it is built for a purpose.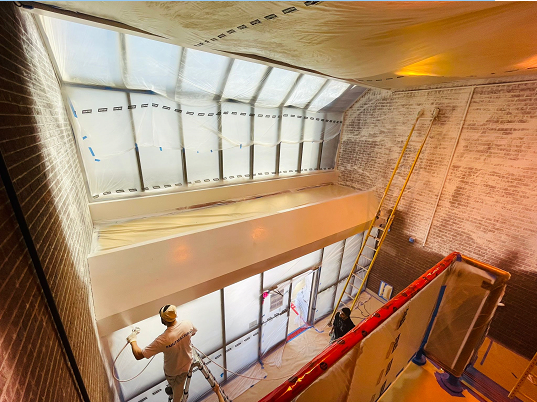 Have a Full-Service Drywall Today!
Indeed, drywall is a popular option for wall covering and any other home interior and exterior design. It is a valuable construction material that offers users many benefits for residential or commercial projects. So when it comes to practicality, affordability and versatility, drywall is a good choice for everyone. And if you are looking for reliable professionals to do your drywall service, PAINTMASTER.ca is the right fit for the job. We make your vision appear right before your eyes. Feel free to visit our website https://paintmaster.ca/ to learn more about our unique services!
| 2023 HomeStars Award Winners | Official Drywall Contractors For The 2023 Princess Margaret Dream Muskoka Cottage Lottery | Painting Specialists At Work Since 1966 |