Plastering is undoubtedly a good choice for giving your home aesthetic appeal. It is an ideal process of smoothing the surface in your home, like walls and ceilings. But just like other construction works, plastering is a difficult job, to begin with. Fortunately, there are ways that you can make the plastering process easy by hiring professionals. They are good at what they do as they have been delivering this service for many years and to different clients.
What is Plastering?
Plastering is the process of covering or coating a wall, ceiling or any structure using plaster. It makes the rough edges or uneven surfaces smooth to increase the strength and longevity of the structure. Also, plastering is done to give a better appearance and finish to the area that is being plastered. Some of the benefits of plastering are:
Make the surface look appealing
Increase the durability of the area
Create a cleaner appearance
With plastering, there is better restoration and protection to walls and ceilings in your home.
Reasons Why Hire a Professional Plasterer
There are several reasons why hiring a plastering service for your home is a good decision. Let's face it, plastering is a time-consuming task if you are not skilled and knowledgeable enough. That is why it is best to get assistance from professionals with experience in this field of work. But why should you hire one?
Expertise and Experience
One of the reasons why hiring an expert for the plastering process is that they have the skills to do the job. Since they have been working for years, they have undergone proper training and gained valuable experience in plastering. They can get the work done without a hassle and achieve a smooth surface of your home.
Time and Cost Effective
Hiring a plasterer saves time and money since you don't have to worry about the next thing that needs to be done. With a professional plastering service, minimal to no mistakes might happen during the process. Also, they can complete the task quickly since they have specific techniques to use.
Quality Materials and Tools
Professional plasterers invest in their materials to get the job done as excellently as possible. They use high-quality plastering tools to do the job with high standards and results. Window trowel, hawk, spackle knife and wooden float are plastering materials in their hands. So if you don't know enough about these tools, leave the work to them.
Safety Measures and Insurance
There are specific strict safety measures that plastering professionals use in their work. These protocols give enough protection to their work and to themselves. And with the insurance coverage, you are sure that any occurrence of damage or injuries is covered and protected by the insurance.
Customized Solutions and Advice
Hiring a professional plasterer gets you the benefit of asking various questions. You are given the opportunity to talk with someone that knows what plastering is all about. They can give you valuable information and advice about plastering and the factors that may affect the service, such as the surface type and the building or establishment itself.
Customer Service and Warranty
Since you can avail of professional service from a plastering company, you can receive excellent customer service from beginning to end. Most plastering service providers guarantee you some warranties, so you can be assured that you are getting a high-quality job. Also, you can receive support and maintenance services throughout the service.
Common Plastering Problems that Might Need a Professional Help
Since you already know why you should hire one for the job, it is time to understand the problems that may occur when you don't seek help from professionals. These problems may occur depending on the situation, so watch out for them.
Cracking
Poor application and possible structure movement are common causes of cracking. If the plaster has a few cracks, it should be fixed immediately by scraping away the loose material. Sand down the gaps and apply another layer of plaster for a smoother effect.
Blistering
When the plaster is separated from the surface, this is when blistering occurs. The very reason why there are blisters is because of the presence of moisture, or there has been improper preparation. So make sure to remove the damaged plaster and reapply another layer.
Peeling
Another problem that may occur due to moisture is the peeling of plaster. In addition, if there is a weak bond between the surface and the plaster, this may happen a couple of times. So fix the peeling by removing the loose ones and applying an even coat of plaster.
Uneven surface
An uneven surface due to incorrect application is one of the most common problems during the plastering process. Just like the usual solution, scrape away the high spots and apply another coat of plaster. Smoothen the surface with the plaster float after.
Discoloration
Too much exposure to water or smoke increases the chance of discoloration. You can sand down the surface and clean it with the right plastering tool to fix this. Apply a new coat and add a primer if necessary.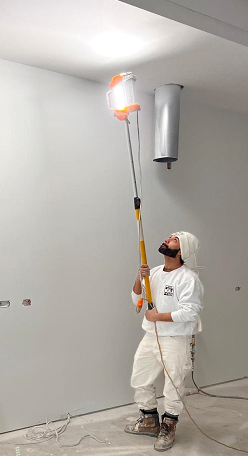 Hire a Plastering Professional For the Job!
In conclusion, hiring a professional plastering service has a lot of benefits. They know what you need as they have delivered this kind of service to hundreds of people. So if you have no experience or skill in plastering works, it is best that you hire one for yourself. Save time and money from all this work and trust plastering specialists like PAINTMASTER.ca. We can do the plastering work as fast as possible. Trust on our years of experience for the best plastering service. Feel free to visit our website https://paintmaster.ca/ to learn more about our unique services!
| 2023 HomeStars Award Winners | Official Drywall Contractors For The 2023 Princess Margaret Dream Muskoka Cottage Lottery | Painting Specialists At Work Since 1966 |